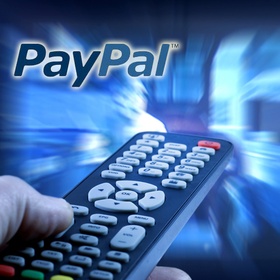 PayPal announces deals that would allow consumers to buy from TV commercials.
PayPal Inc. hopes to make it easier for consumers to purchase goods through their TVs via deals announced today by the payment services operation owned by eBay Inc.
PayPal is working with cable provider Comcast Corp. and set-top box maker TiVo Inc. to enable consumers to make purchases or donations related to content they see during programs, writes Scott Dunlap, vice president of emerging opportunities, in a blog posting. PayPal calls this "t-commerce."
"There's been a lot of talk about interactive 't-commerce' for a long time, but all signs point to an industry that's finally on the verge of taking a real foothold in consumers' lives," Dunlap says.
A PayPal survey from October showed that 49% of TV subscribers wanted to buy goods and services associated with the shows they watch on television; those consumers want to make purchases either directly from their TVs or via smartphones and tablet computers, Dunlap says. He adds that 30% of respondents indicated they would use PayPal to make those purchases. That's 30% of a large number of couch potatoes: consumer analytics company Nielsen Co. says U.S. consumers on average watch about 35 hours of TV per week, or some five hours per day.
Such apparent consumer interest has led PayPal to strike a deal with cable service provider Comcast that eventually would result in consumers making purchases or donations while using their remote controls or their mobile devices. "We are also exploring opportunities for enabling consumers to accept coupons directly into their PayPal online wallet during television advertisements," Dunlap says.
PayPal also is working with TiVo—whose technology enables consumers to save programs for later viewing—to let advertisers turn their commercials into shopping opportunities. "For example, a consumer sees a commercial with a TiVo interactive tag indicating the ability to 'buy now' using PayPal," Dunlap says. "The consumer can pause the live or recorded show, complete the transaction using PayPal, and return to watch the program without missing anything, all with a few clicks of their TiVo remote."
Dunlap gave no further details about the effort, including a timetable for rollout. "The online and offline world have merged and commerce now happens anytime and everywhere," he says. "We believe the TV is the next natural outlet for commerce."
This is not the first time eBay has gone after TV fans. Late last year, the online marketplace put a feature on its iPad app that displays suggested products based on what a consumer is watching on television.
Source: Internet Retailer