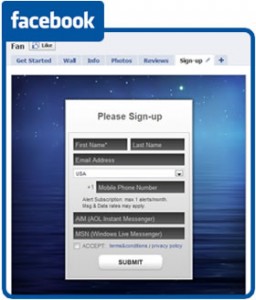 Apollo is pleased to announce our very own Facebook Widget! It's a great way to connect with your existing fans, friends, and other active users who are on Facebook every single day! Collect peoples' contact info and have it automatically update your Apollo database so you don't have to do a single thing. Make sure to do a lot of advertising and let your Facebook fans know to go to your sign-up widget. Remember: The more you advertise it, the more contact info you'll collect, which is a KEY factor in determining how effective your marketing campaigns will be.
Features Include:
Simple wizards for collecting sign-ups
Custom background templates
Custom auto-responders via text message, IM, and email for each sign-up
Address book storing all your sign-ups
Shortened sign-up URLs
Ability to embed the sign-up widget right on your website
Create as many widgets as you'd like. It's simple and easy to setup!!
Used by
Businesses (Retail, Services, Travel, eCommerce, etc.)
Teachers and Professors
Event / Party Organizers
HR Administrators and Staff
Organizations and Non-Profits
Sign-up Sheets for
College Classes
Clubs and Groups
Training and Seminars
Parties and Games
Event RSVPs