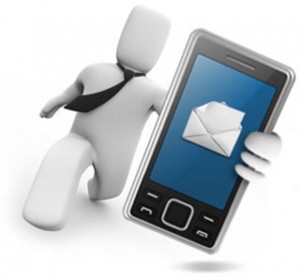 Apollo Online's Business SMS Texting Service is perfect for businesses and organizations of any size and type! Economic times like this call for innovation and so it's time to find new and creative ways to reach your customer base. These days online marketing can only get you so far, so your marketing campaigns should be complemented with a strong digital communications strategy integrated with SMS texting.
You see Mobile Keyword technology all over TV and hear it on the radio every day. It is advertised in magazines, newspapers, blogs, websites, and all over billboards. There's a reason why large corporations utilize mobile marketing – it WORKS!
People can text your custom Mobile Keyword to join your mobile VIP list. Then an automated response is texted back to them with your customized welcome offer. Later, you can send them important Business Text Messages resulting in huge and immediate response rates that you can't experience with email marketing alone.
Integrate your marketing campaigns and on-air promotions to send Business SMS Texts for:
Important News and Alerts
Coupons and VIP Promotions
Interactive Content, Trivia, and Contests
Polls and Surveys
Sweepstakes
It's crucial to keep your audience connected at all times. Build customer loyalty programs to target mobile VIPs and offer incentives to quickly generate mobile signups so you can begin texting them right away. Turn all of your marketing campaigns into quick two-way marketing conversations. Send out a Mass Text Blast and receive replies and feedback immediately from your audience.
TEXTING WORKS!